5-Day China Restoration Course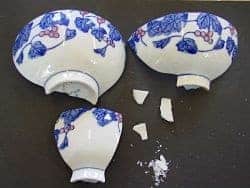 Week of pure pleasure and knowledge
Recently attended a weeks course with Ann in Gainsborough. I travelled from Hove on the south coast and had a fantastic week with a charming and very knowledgeable tutor .I learnt so much in that short period and I am very confident I'm going to be a competent restorer In the future .I came away thoroughly enjoying the week and already putting some of what I've learnt into practise .
Best use of five days you can ever have - brilliant course
Ann is the most wonderful teacher with a huge amount of experience that she imparts brilliantly.
I learned so much on this course because she balanced perfectly teaching you with ample practical so you could learn whilst doing. That included making the classic beginner mistakes that are so important to make with an expert there to tell you how to remedy. We had great Q&A sessions that she answered perfectly and patiently. I have come away learning so much. An added bonus is I also feel I have come away with a friend for life. There may be miles between us but Ann is a lovely lady, great company with a fabulous sense of humour. It was an all-round brilliant week. One I will not forget.
Loved this course!
I just completed this porcelain restoration course and thoroughly enjoyed it! Ann is truly an expert. She is a thorough, patient, excellent teacher with the right balance of 'hands on' whilst allowing you to focus on the task at hand. The course covers every aspect of the craft, so you come out with all the answers and can go home to hone your new skills. Brilliant!
5 out of 5 stars (based on 3 reviews)
Completed your course? How did we do?
5-Day China Restoration Course
This course is a total of approximately 30 hours taught time. You will work on both porcelain and earthenware items, learning professional methods as taught at University degree level.
This is an intensive, hands-on 5 days in which you will learn a great deal, but very briefly the workshop teaches you how to-
differentiate between types of ceramic material

safely remove previous repairs and clean the pieces

assemble the pieces correctly, using correct adhesives

carry out fills to replace missing areas

mould and replicate missing decoration and details

retouch surface colour and decoration and apply suitable glaze
The course includes –
all materials

all tuition

refreshments on tap all day
It is not recommended to bring your own precious china to work on initially, but this can be arranged after the basic course if you wish.
All-inclusive ~ £850.00
Just click on your choice of date below to book
If none of the set workshop days fit your schedule, do have a chat with me as I can sometimes slot in other dates.