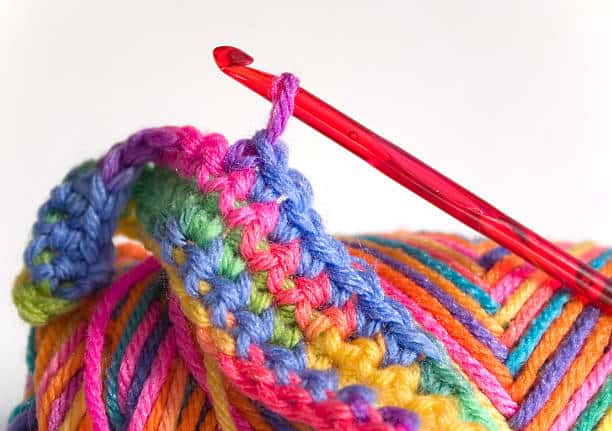 Crochet Beginner's
Just completed the latest crochet beginners course. It was fabulous, really enjoyed it and learnt a lot from Ann, who's the walking crochet bible!!!! Great to meet other crafters too and the banter was brilliant. I've come a long way from learning to start off to following patterns. Highly recommend this course for anyone wanting to learn crochet!!!!
Beginners Crochet coming up soon
After my great experience attending the fused glass workshop I am really looking forward to learning to crochet on the workshop in October.. I would encourage anyone to have a go at one of Ann's workshops, you cannot fail to have a fantastic experience.
Left handed? No problem!
Well I've lost count how many people tried to teach me to crochet and failed so I wasn't holding out much hope here. But Ann is very skilled, patient with a wicked sense of humour and made you feel comfortable to ask advice and guidance along the way. I can crochet now, with only 6 weeks of expert progressive tutoring. In a friendly and relaxed atmosphere with all the equipment needed to make… well whatever comes to mind! Would recommend absolutely!
Crochet beginners course
I attended the most recent crochet course and I have to say it was wonderful. I had tried to teach myself with no luck over the years. Ann is a very patient teacher who will go over things numerous times until you get the hang of it and explains things in simple, understandable terms. It's also great to have a few hours away from everyday life and meet new friends.
Crochet wizardry
I attended the last crochet class Ann ran , it was very informative but fun to learn something completely new, and over the course of the six weeks it was something to look forward to seeing your fellow crafters . Ann is a patient teacher who has a wealth of knowledge. Just sometimes the time went too quickly . If you get the chance to practice at honm in between lessons it really helps
5.0 out of 5 stars (based on 5 reviews)
Completed your course? How did we do?
Crochet Beginners Course
Crochet is one of the oldest yarn crafts and one of the most satisfying to learn. 
Once you've got the hang of the basics, you can make hats, scarves, gloves sweaters, toys and so much more!
It's not hard to get to that stage and this 12-hour course teaches all you need to get you started:
How to hold the hook and yarn

The basic stitches – slip stitch, chain, double crochet and treble

Crocheting back and forth and in the round

Increasing and decreasing (on purpose!! ?)

How to read a pattern, both in UK and US terms

How to read a chart
You'll get yarn, a hook and handouts to take home and keep. You will need to practice between classes.
The course runs for 6 sessions, 2 hours per session, spaced over 6 weeks.
Reserve your seat when you book through the secure site system.
All-inclusive ~ £65.

00
Just click on your choice of date below to book
If none of the set workshop days fit your schedule, do have a chat with me as I can sometimes slot in other dates.