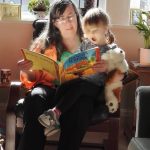 Crafts 'n' Coffee is the vehicle for bringing you interesting and different courses and workshops, and unique gifts to buy.
I'm Ann Walker and I've been teaching lots of different crafts for more than 35 years. You don't need to have any experience in any of the craft skills I teach – you'll learn all you need to get you started right here!
A few bits about me personally: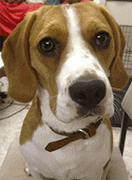 I live in Gainsborough, UK, with my woodworking business partner and a crazy beagle called Tiggy. 
I have a BA(Hons) degree in conserving and restoring historic objects, which I waited 30-odd gap years before starting.
I've been a nurse, a teacher and a full-time antique restorer over the years.
Others have noted about me that:
I'm an avid maker of things, mostly in glass these days (stained, painted, fused and flame-worked);

I'm obsessive about correct grammar, punctuation and spelling;

I'm not modest about my abilities;

I love all the iterations of Star Trek with a passion;

I can talk for England once I get started, and

I hate parsnips.
I couldn't possibly comment.