Stained Glass Workshops – Full Day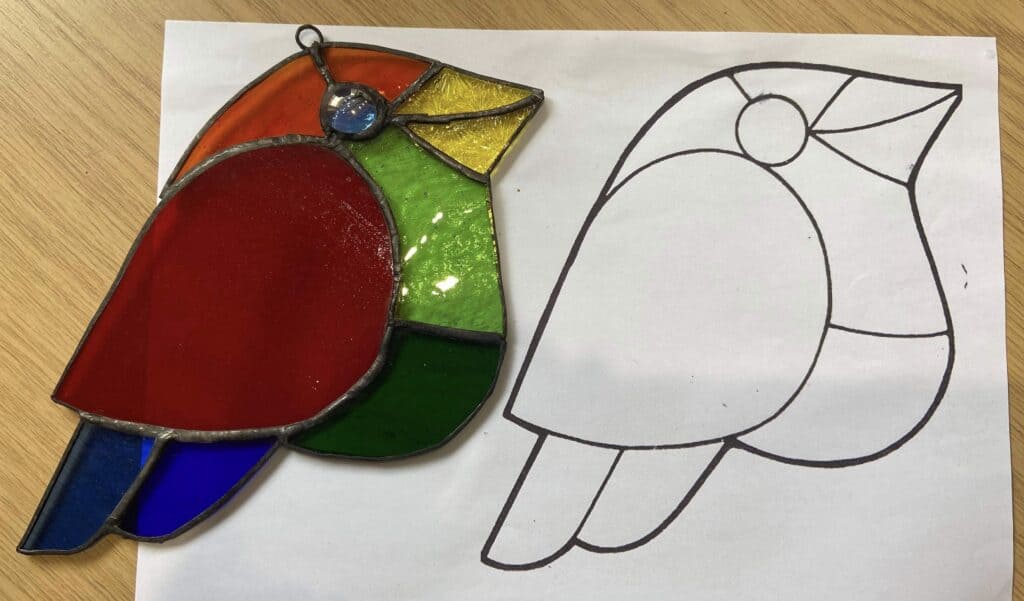 Sun catcher design construction and colour
Having completed the introduction I leaped straight into the stained glass full day course and chose a complex piece. No worries Ann guided me through choices of glass, explained the cutting process and how different coloured glass cuts differently. So much patience support and good humour and I am so proud of my work.
Such a fun day!
I had so much fun in this workshop! I made a beautiful leaded suncatcher and I've never even cut a piece of glass before. Ann is a fantastic tutor. She explains everything very clearly and is extremely patient. She has a great teaching style and knew just when to offer help and when to stand back and let me do it myself. The studio is spacious, bright and comfortable. Brilliant day – highly recommended!!
5.0 out of 5 stars (based on 2 reviews)
Completed your course? How did we do?
Stained Glass Workshop
This 7-hour workshop will teach you how to:
cut the glass… and NOT yourself!

grind the cut pieces for fit and to remove sharp edges

apply copper foil around each piece

make and fix a hanger

flux and solder

patinate and polish the solder
~ all while you're making a hanging stained glass sun-catcher of your choice to take home. There are about a dozen different designs to choose from and you can select your favourite glass colours too.
The fee for this workshop covers ~
all materials and use of tools

all tuition

refreshments on tap all day

a good lunch of your choice
All-inclusive ~ £75.00
Please click on your chosen date in the list below to open the booking page.
If none of the set workshop days fit your schedule, do have a chat with me as I can sometimes slot in other dates.