2-Day Traditional Upholstery Workshop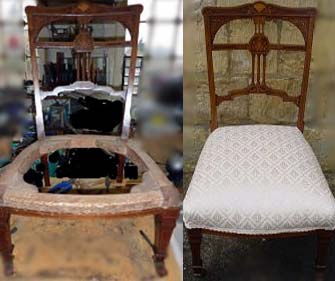 Wow - just wow!
I attended the 2-day course last weekend. I went in with no upholstery skills or know-how at all and came away with a lovely antique chair, upholstered traditionally and looking fabulous. The teacher Ann said it would last 50 to 100 years now it's been done! She's a great teacher – very patient and helped me to work out problems for myself, so I'll know what to do with the next chair I upholster. I am so impressed with this course I'm thinking of taking the longer one too, to learn even more. I even think, with some practice, I could do this for a living – I'd love that! I totally recommend this course to anyone thinking of having a go at proper upholstery. Oh, and the lunches are HUGE!! 🙂
5.0 out of 5 stars (based on 1 review)
Completed your course? How did we do?
2-Day Upholstery Workshop
Upholstery is a very useful skill to learn and it's possible to do excellent quality work with remarkably few specialist tools. You can also easily turn your new skills into a profitable paying hobby or small business, with some further practice.
Come and join us for a 2-day (14 hour) Level 1 workshop which will give you all the basic professional skills needed to traditionally re-upholster an upright chair seat.
No foam and staples here!!
Using traditional tools, materials and techniques, you will learn everything you need to know to start you on the road to a professional finish on a 'double stuffover' unsprung seat, building the structure of the upholstery in 15 separate layers/processes
The fee for the workshop includes:
All materials needed to upholster a small chair
(you are welcome to bring your own top fabric but we'll need to chat about it in advance)
A nice chair to work on and take home
Use of all necessary tools
Refreshments on tap all day
A good lunch of your choice each day
All-inclusive ~ £350.00
Just click on your choice of date below to book
If none of the set workshop days fit your schedule, do have a chat with me as I can sometimes slot in other dates.