Level 1 Traditional Upholstery Workshop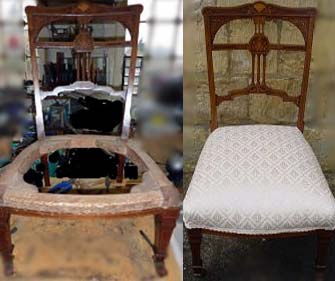 Level 1 Upholstery Workshop
Upholstery is a very useful skill to learn and it's possible to do excellent quality work with remarkably few specialist tools. You can also easily turn your new skills into a profitable paying hobby or small business, with some further practice.
Come and join us for a 2-day (14 hour) Level 1 workshop which will give you all the basic professional skills needed to traditionally re-upholster an upright chair seat.
No foam and staples here!!
Using traditional tools, materials and techniques, you will learn everything you need to know to start you on the road to a professional finish on a 'double stuffover' unsprung seat ~
Building the structure of the upholstery in 15 separate layers/processes:
~ Webbing
~ hessian scrim layer
~ bridle ties
~ coir stuffing
~ heavyweight hessian layer
~ through ties
~ edge stitching
~ roll edge stitching
~ second coir stuffing
~ cotton flocking layer
~ calico layer
~ wadding layer
~ top fabric layer
~ edging
~ bottom cloth.
The fee for the workshop includes:
All materials needed to upholster a small chair
(you are welcome to bring your own top fabric but we'll need to chat about it in advance)
A nice chair to work on and take home
Use of all necessary tools
Refreshments on tap all day
A good lunch of your choice each day at the local eatery
All-inclusive ~ £350.00