Wire Weaving Jewellery Workshop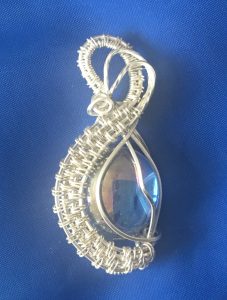 Wire weaving Jewellery
Loved this course, thanks Ann for your patience haha!
I made my own piece of jewellery!
I attended the workshop not really knowing what to expect and also with the mindset of 'I won't be able to do it'………. until I met Ann!
I had a lovely morning making jewellery, Ann walked us step by step through the process and taught us the basic skill set to produce a gorgeous pendant. I am so excited and want to learn more!
5 out of 5 stars (based on 2 reviews)
Completed your course? How did we do?
Wire
Weaving Jewellery Workshop
Wire wrapping is the ideal way to make jewellery from lovely stones or glass which don't have a centre threading hole. It's a very on-trend craft at the moment.
This workshop will teach you some of the basic weaving skills and is good if you've already done our taster workshop, but can easily be completed by a total beginner.
The workshop runs for about 3 hours and you will make a fab pendant using high-quality copper-core silver wire, copper wire and a glass nugget or other centrepiece. Our wire is all non-tarnish.
The workshop fee includes:
All materials and use of tools

Full step-by-step tuition
All inclusive ~ £35.00 per person
Just click on your choice of date below to book